Canggu: Bali's Coastal Paradise
In the heart of Indonesia's famed island of Bali, you'll stumble upon Canggu—a coastal village where the vibrant hues of green rice paddies meet the shimmering blue of the Indian Ocean. Once a hidden gem known only to locals, Canggu has gracefully evolved into a trendy haven for surfers, digital nomads, and adventurers alike. As you wander its streets, you're greeted by a harmonious blend of traditional Balinese culture and modern, bohemian vibes.
From sipping on freshly brewed coffee in chic cafes to witnessing the iconic sunset at Echo Beach, Canggu promises an experience that's both tranquil and exhilarating. So, whether you're in search of serene landscapes, mouthwatering local delicacies, or an enticing surf break, this Balinese enclave has a little something for every traveler's soul. Welcome to Canggu, where Bali's past and present dance together in perfect rhythm.
What to expect from Canggu
Authentic Balinese Atmosphere
Canggu effortlessly fuses the relaxed ambiance of a coastal village with the energy of Bali's evolving modern culture. Here, traditional ceremonies still take center stage, even as hipster cafes and boutique shops pop up alongside. You'll find a harmonious blend of old and new, creating an environment that's uniquely Balinese.
A Surfer's Paradise
Canggu's coastline is synonymous with surf culture. Its beaches, particularly Echo Beach and Berawa, attract surfers from all over, thanks to their consistent waves and inviting waters. Whether you're a seasoned pro or a beginner, the sea here has a wave with your name on it.
A Culinary Mosaic
Your taste buds are in for a treat. Canggu's food scene is an eclectic mix of traditional Indonesian delicacies, sumptuous international dishes, and innovative fusion recipes. From the fresh catch of the day at a beachfront eatery to organic vegan delights, the culinary landscape here is as diverse as it's delicious.
Vibrant Nightlife
As the sun sets, Canggu's nightlife comes alive. With an array of bars, live music venues, and beach clubs, there's no shortage of places to unwind and celebrate the night. You'll find locales that cater to every vibe, from laid-back acoustic sessions to upbeat dance floors.
Eco-conscious Initiatives
The community in Canggu is becoming increasingly aware of its environmental footprint. Many local businesses and restaurants are adopting sustainable practices, from eliminating single-use plastics to supporting local farmers. This eco-awareness adds a green touch to your travel experience.
Welcoming Local Community
One of Canggu's undeniable charms is its warm and welcoming local populace. The Balinese are known for their hospitality, and in Canggu, it's evident everywhere you go. Engaging with locals, be it a friendly chat at the market or a shared dance during a festival, offers invaluable insights into the heart of Balinese culture.
Ride the Waves at Batu Bolong Beach
Famed for its surf-friendly waves, Batu Bolong Beach is a must-visit. Whether you're a seasoned surfer or new to the board, you'll find waves suitable for all skill levels. Local surf schools dot the shoreline, ready to guide you if you're keen on learning.
Delve into the Tanah Lot Temple
A short drive from Canggu will bring you to the iconic Tanah Lot Temple. Perched atop a rocky outcrop amidst the sea, it's not only a spiritual sanctuary but also offers mesmerizing sunset views. Remember to time your visit during low tide to walk up close.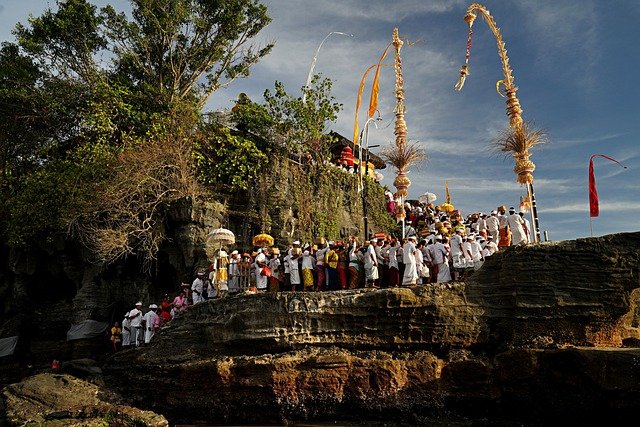 Engage in Yoga Retreats
The tranquil ambiance of Canggu lends itself perfectly to rejuvenation. Numerous yoga studios, such as The Practice and Samadi Bali, offer classes that cater to both beginners and seasoned yogis, ensuring a holistic wellness experience.
Explore Canggu on Two Wheels
Renting a bicycle or scooter is a popular way to explore Canggu's nooks and crannies. As you weave through rice paddies, local villages, and beachfront, you'll discover a blend of traditional and modern Bali at your own pace.
Wander the Tegallalang Rice Terraces
While not precisely in Canggu, the Tegallalang Rice Terraces are a short drive away and are worth every minute. These verdant terraces offer a picturesque vista and a peek into traditional Balinese agricultural practices. Early morning visits give you cooler temperatures and fewer crowds.
Dive into the Local Art Scene
From street murals to art galleries, Canggu is bursting with creativity. Spaces like the Allcaps Store showcase local and international graffiti talents, while local artisans display their crafts at various markets. It's a visual feast that'll inspire your artistic side.
Savor the Sunset at Echo Beach
End your day by unwinding at Echo Beach, where the amber hues of the sunset blend seamlessly with the rhythmic sound of crashing waves. Beachfront cafes serve delicious seafood barbecues, letting you indulge in flavors as you soak in the views.
Places you can't miss in Canggu
Batu Bolong Beach
Hands down, Batu Bolong Beach is a favorite for many. With its laid-back vibe, you can lounge around, catch some rays, or hop onto a surfboard. And those sunset views? Totally Instagram-worthy!
The Chill House for a Zen Retreat
Looking for a slice of paradise to relax? The Chill House offers yoga retreats and wellness sessions. It's not just about stretching and meditating; think tropical greenery, poolside lounging, and that oh-so-needed digital detox.
Hungry? Crate Café is a Must-Visit!
If there's one café creating some buzz in Canggu, it's Crate Café. Serving up delish breakfast bowls, smoothie blends, and some epic coffee, it's a spot you'll likely visit more than once. Maybe even twice in one day, but who's counting?
Lost City: For the Little Adventurer in You
Unleash your inner explorer at Lost City. It's an awesome place for both the young and the young-at-heart to have a blast. Think mini-golf, trampolines, and cool mazes. Even if you're "adulting," it's okay to let loose once in a while!
Deus Ex Machina: Bikes, Boards, and Beats
A combo of a shop, restaurant, bar, and live music venue, Deus Ex Machina has something for everyone. Whether you're a motorhead, a foodie, or just into cool tunes, it's a hotspot you won't want to skip.
Pretty Poison: For the Skate Enthusiasts
Skateboarding in a bowl while sipping a cocktail and vibing to some cool beats? That's Pretty Poison for you. It's a bar, it's a skate bowl, it's the definition of Canggu's eclectic charm.
How to Get to, and Get Around in Canggu
Flying into Bali
First things first: if you're coming from afar, you'll likely touch down at Ngurah Rai International Airport in Denpasar. It's the primary gateway to Bali. Once you land, Canggu is just a stone's throw away – well, a 45-minute drive, but who's counting?
Grab a Taxi or Arrange a Pickup
Right from the airport, there are heaps of taxis ready to whisk you away to Canggu. For a hassle-free experience, it's a good shout to agree on a price before hopping in. Alternatively, many accommodations in Canggu offer airport pickups. Simple, easy, and no haggling needed!
Scootering Around – The Local Way!
Once you're in Canggu, you'll notice scooters everywhere. They're the go-to mode of transport. Renting one? Super affordable and it gives you the freedom to explore every nook and cranny. Just remember to wear a helmet and ride safely; no one likes a reckless rider.
Bicycles for a Greener Ride
If two wheels minus the engine is more your speed, bicycles are available for rent throughout Canggu. It's eco-friendly, keeps you fit, and lets you soak in the views at a leisurely pace. Plus, you'll dodge those occasional traffic jams!
GoJek and Grab – For When You're Feeling Fancy
These ride-hailing apps are popular in Bali. Whether you're looking for a car ride, a scooter pick-up, or even food delivery, they've got you covered. Download the apps, and you're good to go!
Navigating Canggu and its surroundings is a breeze once you know the ins and outs. Whatever mode of transport you pick, enjoy the journey, take in the sights, and hey, maybe make a pit stop for some coconut water along the way. 
Tropical Vibes Year-Round
Yep, you guessed it! Being in Bali means Canggu enjoys a tropical climate. This equates to warm temperatures throughout the year. On average, you're looking at daytime temperatures floating around 27°C to 32°C (80°F to 89°F). So, that summer wardrobe? It's gonna get a workout.
Wet and Dry – Bali's Two Seasons
Essentially, Canggu has two primary seasons: wet and dry. The dry season usually spans from April to October, giving you clear skies and sun galore. It's a prime time for beach days and sunset chasers. On the flip side, the wet season which runs from November to March, brings rain showers. But hey, those tropical downpours can be oddly refreshing, and they often clear up pretty quickly.
Surf's Up! But When?
For the surf enthusiasts among you, the dry season, especially between May and September, offers the best wave conditions. But honestly, Canggu's beaches are pretty generous; they offer decent swells most of the year.
Keeping Cool
With humidity levels often rising above 80%, Canggu can feel a tad sticky at times. But don't sweat it (pun intended). Most places, including cafes, restaurants, and accommodations, are equipped with fans or air-conditioning. And, there's always the ocean for a quick cool-down!
Pack Smart
Given the tropical forecast, light and breathable clothing is the way to go. Don't forget your sunscreen, shades, and perhaps a hat. For those unexpected rain showers during the wet season, a portable umbrella or rain poncho can be a lifesaver.
As you plan your adventure to Canggu, let the rhythmic dance of sun, surf, and tropical breezes guide your journey. From sun-soaked beach days to moonlit nights echoing with the sounds of waves and laughter, Canggu offers an embrace that's both warm and invigorating. It's not just about the destination, but the memories you'll craft, the flavors you'll savor, and the stories you'll gather. So pack that bag, lace up those adventure shoes, and dive headfirst into the vibrant tapestry of Canggu.