Complete Guide to The Best Hotels in Sanur, Bali
Everyone loves Bali, for a reason. And one of the best places to visit while being there is Sanur. The coastal town is located on the east coast of Bali, Indonesia. It's known for its long stretch of sandy beaches, calm waters, and laid-back atmosphere. Sanur is an ideal destination for those who seek a quieter alternative to the more crowded and touristy areas of Bali. Sanur is also a popular destination to visit due to its easy access to the nearby Nusa islands.
The town is home to many lovely hotels, from budget guesthouses to luxurious beachfront resorts. Overall the accommodations hold a high standard and have a lot of similarities. To find the perfect one for your visit, check out our list of the best places to stay in Sanur, from cheap hostels to more luxurious alternatives.
Luxury Hotels
Maya Sanur Resort & Spa
This is the perfect place to experience the ultimate luxury that Bali has to offer. Maya Sanur Resort & Spa is a five-star accommodation, considered one of the best hotels in Sanur. It's offering a breathtaking oceanfront setting and natural surroundings. Maya Sanur Resort & Spa has spacious rooms and suites, each with a private balcony or terrace overlooking the garden or the sea.
You can easily relax here in the wide range of facilities, including two swimming pools, a spa, and a fitness center. There is also free private parking available. If you're traveling with children, you can enjoy a kids' pool, a playground, a complimentary kids' club, and childcare services at the hotel. 
The hotel is also perfect for events, gala evenings, or business meetings with its five magnificent halls. The Ballroom accommodates up to 225 people and is a perfect space for a large party with a perfectly precision-delivered experience. Or why not use The Pavilion as a business centre for your next workshop? The glass Pavilion has a stunning sea-view garden and is comfortably made for up to 60 people.
Price: $248 per night.
Hotel Tandjung Sari
Sanur's ageless beauty, Tandjung Sari Hotel, has captivated guests for over fifty years. What started as a private home, soon became a charming hotel, famous for hosting international celebrities like David Bowie, Mick Jagger, and Annie Lennox. 
Unlike standard hotels, Tandjung Sari offers stand-alone cottages, providing a home-away-from-home experience, and that's what we absolutely love about this place. Each cottage is an ode to the Balinese tradition of performing arts, showcasing the culture of Bali. Tandjung Sari offers you a big swimming pool, a gym, a library, and a really cozy outdoor living room.
Price: $248 per night, breakfast included.
Hyatt Regency Bali
Hyatt Regency Bali is a beachfront hotel in Sanur built on nine hectares of lush tropical gardens. There are plenty of things to do, both inside and outside the resort. The hotel is located near Bali's main tourist attractions, and the Ngurah Rai International Airport is just 16 km away. The hotel has one outdoor swimming pool for adults and one swimming pool dedicated to children, so everyone can enjoy splashing fun.
If you're looking for some disconnection from reality the Shankha Spa may be just right. With 10 spa villas, a fitness centre, sauna & steam, yoga, an adults-only pool, and plunge pools, it is Sanur's largest wellness facility.
From Hyatt Regency Bali, it's only a short distance to the famous Semawang Beach with its white sand and beautiful water. If you're more into cultural things you can take a 10-minute drive to the famous Le Mayeur Museum, which contains the works of Adrien-Jean Le Mayeur as well as his collection of traditional Balinese art and local artifacts.
Price: $192 per night.
Andaz Bali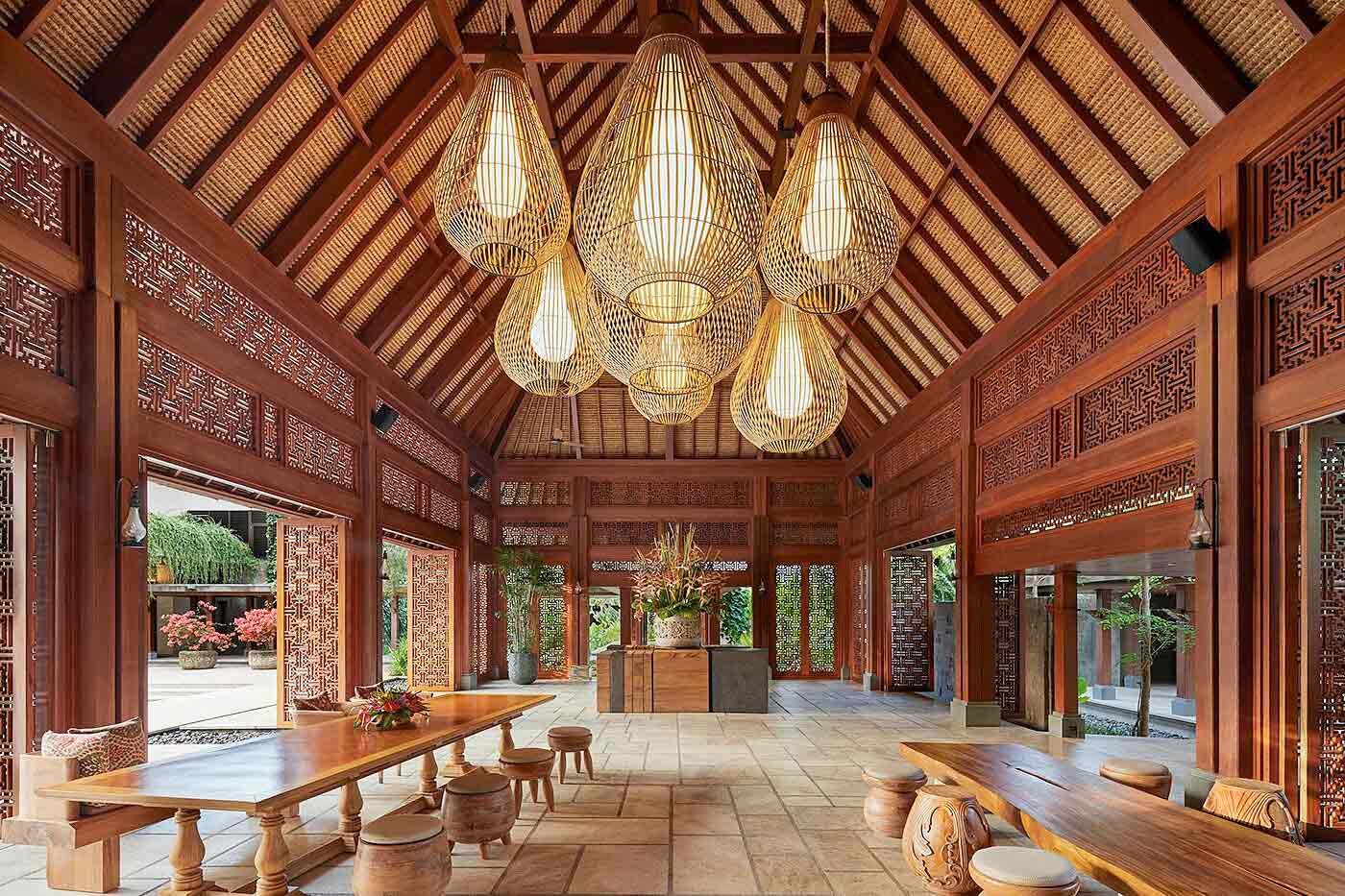 Andaz Bali is a very cozy 5-star hotel in Sanur with modern amenities and an impressive interior design. In addition to the obvious facilities at a hotel of this caliber, such as air-conditioned rooms, flat-screen TV, free Wi-Fi, and a safety deposit box, you are also offered an outdoor pool, a playground for children, free parking, a wide range of restaurants, and spa facilities.
The hotel is only located 5 km from Serangan Turtle Island, where you can visit The Turtle Conservation and Education Centre. There, you can see turtle breeding pens with various species of sea turtles. Large specimens are kept in pens, and you may also participate in feeding times. Regular releases are also a highlight in which you can join.
This is a great place to get around by bike, and therefore the hotel offers bike hire to all its guests.
Price: $296 per night.
Klumpu Bali Resort
Klumpu Bali Resort, a Traditional HideAway in Sanur, is a hotel that offers a blend of traditional furnishings and modern facilities. Each room is adorned with traditional Balinese wooden roofing, which adds to the feeling of truly experiencing the real Balinese culture. Outside the rooms, there is a large and spacious lagoon pool. If you are not a pool person and would rather swim at the beach, it is only a short 5-minute walk to the famous Karang beach.
All private villas come with a terrace and a kitchen, and the en suite bathroom has a rain shower and free toiletries. The friendly staff at Klumpu Bali Resort are available at the front desk 24 hours a day to assist you in the best way possible. Even airport transfers are free here. We truly understand why the hotel rating is so high!
Price: $193 per night.
Cheaper luxury: 
Prama Sanur Beach Bali
Prama Sanur Beach Bali has a perfect location by the sandy beach in Sanur. In addition to the sea, the hotel also has 2 outdoor pools. Tennis courts and 24-hour room service are also offered. The hotel is surrounded by a 6-hectare tropical sanctuary perfect for long walks enjoying all the different plants. For those who want to indulge extra, there is a spa with wonderful treatments and a fitness center for workouts. There is free WiFi access in all areas.
The poolside restaurant has a large seating area and serves international favorites as well as grilled fish and seafood dishes. You can also dine at Basilico Italian Pavilion & Bar, Lada Restaurant, and Bamboo Beach Bar. 
Prama Sanur Beach Bali is only a 15-minute drive from Denpasar and a 25-minute drive from Ngurah Rai Airport. Free parking is available on-site.
Price: $98 per night.
Akana Boutique Hotel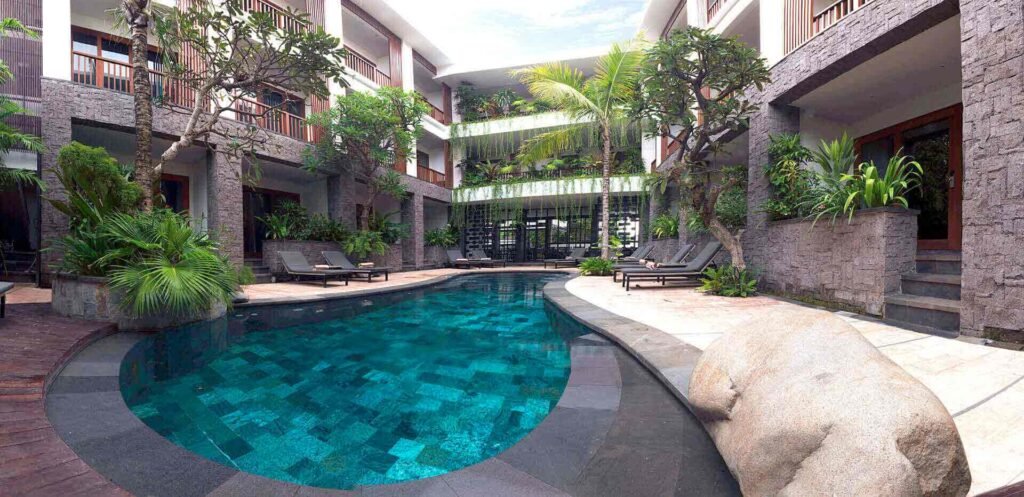 Located in the coastal village of Sanur Bali, this hotel brings charm to one of Bali's favorite tourism destinations. With just 36 available rooms styled to anticipate all your needs as a traveler, this design-driven and sustainable thinking hotel is the perfect place to experience Sanur and its many delights.
The crystal clear waters of a natural stone swimming pool in the center of the property promise hours of in-house relaxation. Akana Boutique Hotel even has its own beach club for you to make the most out of your stay. Considering its cheap room prices this is by far one of the best places you can stay in Sanur.
The main street of Sanur, lined with restaurant, cafes, spas, shops, and colorful market stall are within walking distance from the hotel. 
Price: $55 per night.
Manzelejepun Luxury Villa
Manzelejepun Luxury Villa is a hotel with luxurious Balinese wooden architecture covered by a traditional thatched roof. It's located in a peaceful Balinese residential area that provides the perfect relaxation location on Bali's southeastern coast, 2 km north of Sanur.
The hotel's helpful staff is ready to assist you at any time of the day, and there is also a private chef who will cook all your meals or shop for anything you need if you wish to cook yourself. It's amazing that the opportunity for a professional chef is available at a hotel of this low price, talk about great value!
In addition to the air-conditioned villas, you'll also have features like a flat-screen TV with cable channels, free internet access throughout the area, a safety deposit box, and a refrigerator. From your window, you can enjoy the exclusive 50-foot lap pool view. This is a very cozy and family-friendly hotel that still gives you a tremendous feeling of luxury.
The first floor of the terrasse in the garden is actually designed by a well-known Balinese landscaper named Made Wijaya. He's one of the most famous tropical garden landscape designers and the hotel is very proud to have worked with him.
Price: $32 per night.
Sudamala Resort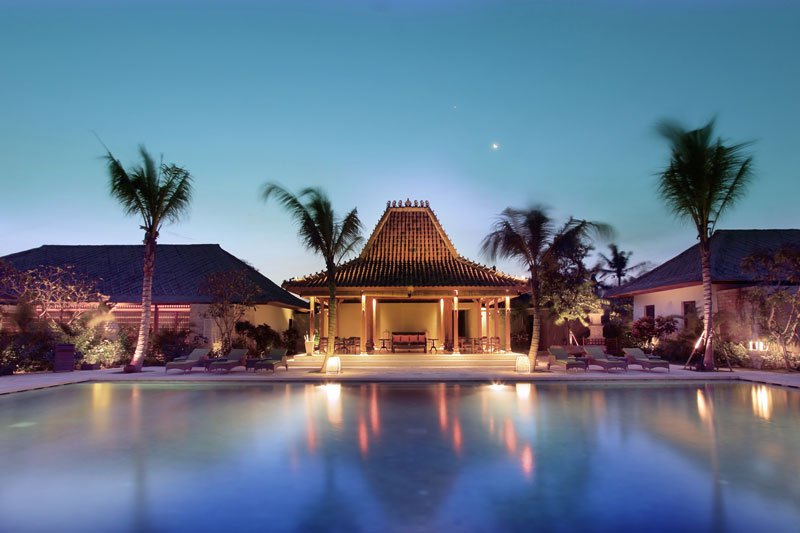 Just moments from the busy centre of Sanur you'll find the tranquil hideaway of Sudamala. Low-rise and laid back, the hotel's design is inspired by its local culture and is in keeping with its Balinese surroundings. It offers modern rooms with free WiFi, a private balcony, or a terrace. A flat-screen TV with satellite channels, a minibar, and tea/coffee-making facilities. There is also an outdoor pool and spa that await guests at this luxury accommodation. Some suites even feature an outdoor bathroom, which according to us is the perfect extra touch to get the real tropical vibe. 
Sudamala Resort also has a library for those who want a quiet area and a business centre for those who need to work. Laundry and currency exchange services are offered. The hotel's friendly staff can even set up sunbeds and umbrellas on the beach if you ask them.
Owned by an art collector, there are hand-crafted pieces and artworks throughout as well as the Sudakara ArtSpace featuring contemporary works by local artists and international artists in residence in Bali.
Price: $69 per night.
Mercure Resort Sanur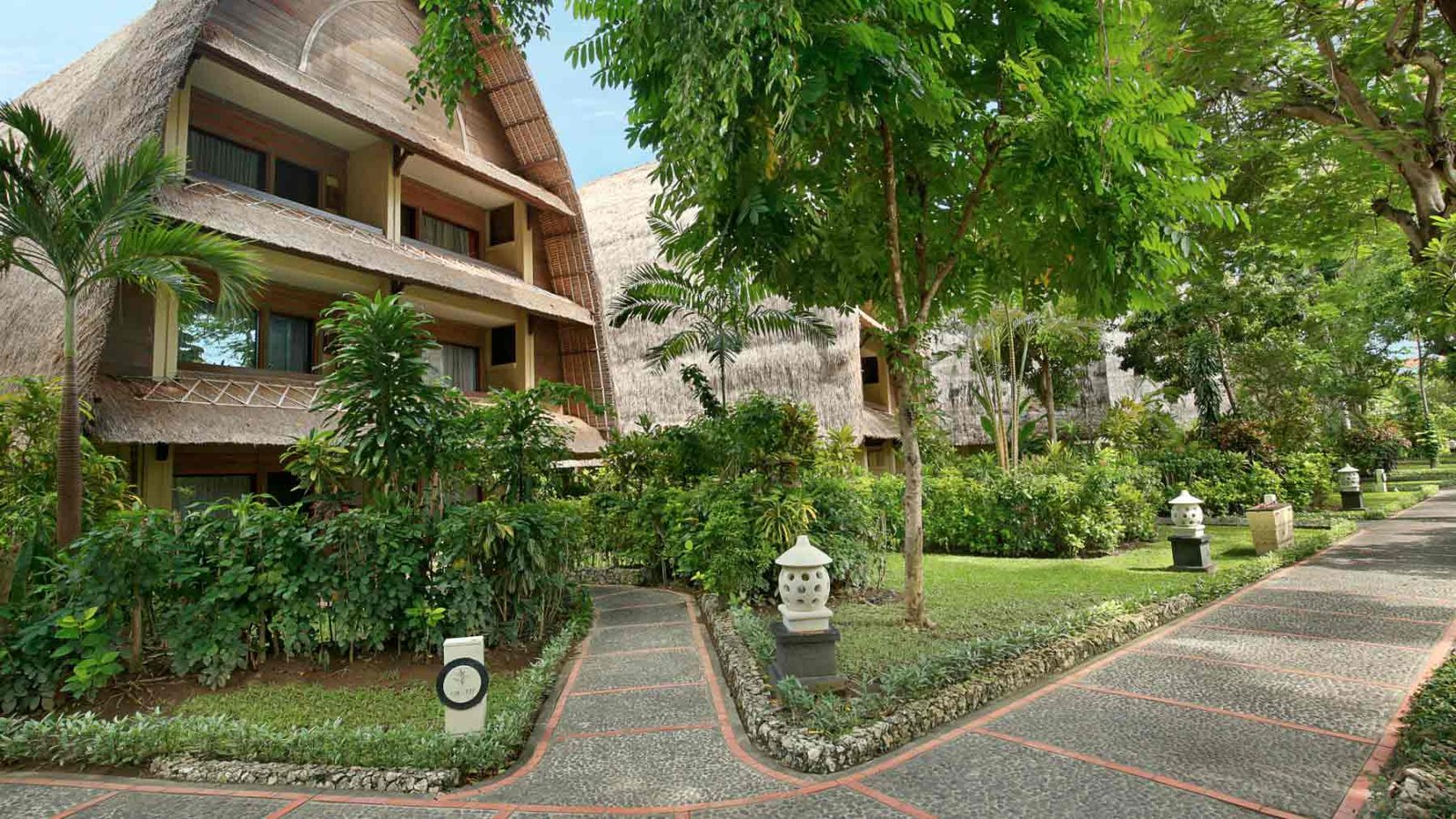 Only 20 minutes from Ngurah Rai International Airport, you will find this lovely resort. Mercure Resort Bali Sanur is located in the eastern part of the city of Denpasar – in the calm and relaxed environment of Sanur Beach, where centuries of Balinese art and cultural history have been nurtured.
Located right on one of Bali's most beautiful, calm, and whitest sand beaches, the resort showcases the peaceful vibe that Sanur is known for. As a guest, you can stay in iconic Balinese cottages with Alang-Alang roofs and Lombok-influenced architecture. Surrounding the resort are 5 hectares of tropical gardens that provide a sense of space and tranquility. 
This getaway destination boasts one of the largest private beachfront resorts in Sanur, a destination in itself. On the private beach, you have access to Genius Cafe, which serves a wide range of healthy food options. Also on the beach are World Surfaris Bali, one of the experts in surf travel and holiday adventures in Indonesia, and a yoga studio offering yoga classes and meditation, yoga teacher training, yoga retreats, and holistic treatments.
Price: $62 per night.
Parigata Villas Resort
At this cozy resort, you can stay in Balinese villas nestled among palm trees. The charming villas have thatched roofs, high ceilings, and large living rooms. You have your own dining area with a view of the garden, the perfect area for playing board games when you need a break from the sun. You also have your own balcony and bathroom with a  bathtub. In addition to being close to the beach, you can also cool off in the pool.
You have access to massages at the hotel spa, so why not spoil yourself with a moment of relaxation? The destination is perfect to be seen by bike, and you can rent one from the hotel if you'd like to. There is also a barbecue area by the pool and a library for relaxing reading. So if you feel like not having to leave your resort, this is the right place for you.
Price: $76 per night.
Segara Village Hotel
Segara Village Hotel is, as the name suggests, a cozy village-like resort consisting of 33 small villas scattered in a lush garden. The hotel is located directly on the beautiful sandy beach in Sanur and is both modern and traditional at the same time. The double rooms and bungalows are nicely decorated with stylish furniture, while the details maintain the feeling of being in Indonesia and the tropics.
Nestled among palm trees, you will find the hotel's pools with sun loungers, as well as a pool bar where you can sit in the water and sip on a drink. If you prefer sand between your toes, it's just a 1-minute short walk onto the beach, where the hotel also offers free sun loungers for its guests. If you book a double room at The Segara, you will be extra pampered and have access to a private pool that can only be used by guests in that room category, and if you want to indulge yourself further, you can treat yourself to a treatment in the hotel's spa. 
If you feel that your pulse is too low, the hotel offers training opportunities in the form of tennis on their private tennis courts, and on the beach, you can try various water sports that get your adrenaline pumping. When you get hungry, you can either choose to visit one of the hotel's two fine restaurants or stroll along the beach promenade and find a cozy beach bar with a view of the sea.
Price: $130 per night.
Maison Aurelia Sanur
Maison Aurelia in Sanur, Bali – a truly unique and charming hotel that shows off the local heritage and beauty of the island. Here you'll feel like you've found a hidden oasis with a peaceful and romantic setting. As one of the best boutique hotels in Sanur, Maison Aurelia is a true work of art that exudes colonial elegance and passion.
With 42 gorgeous guest rooms, a private board room for your business meetings, a lovely garden, a jacuzzi, an outdoor swimming pool, a gym, and a spa, you'll have everything you need for a relaxing and rejuvenating stay. And, to really get the real experience, be sure to try the dining options of the amazing Balinese cuisine served at the hotel's restaurant.
The closest beach to the hotel is Matahari Terbit Beach which is about 2,5 km from Maison Aurelia Sanur. The beach has very chill vibes and is the ideal spot to enjoy soothing Sanur sunrises.
Price: $98 per night.
Puri Santrian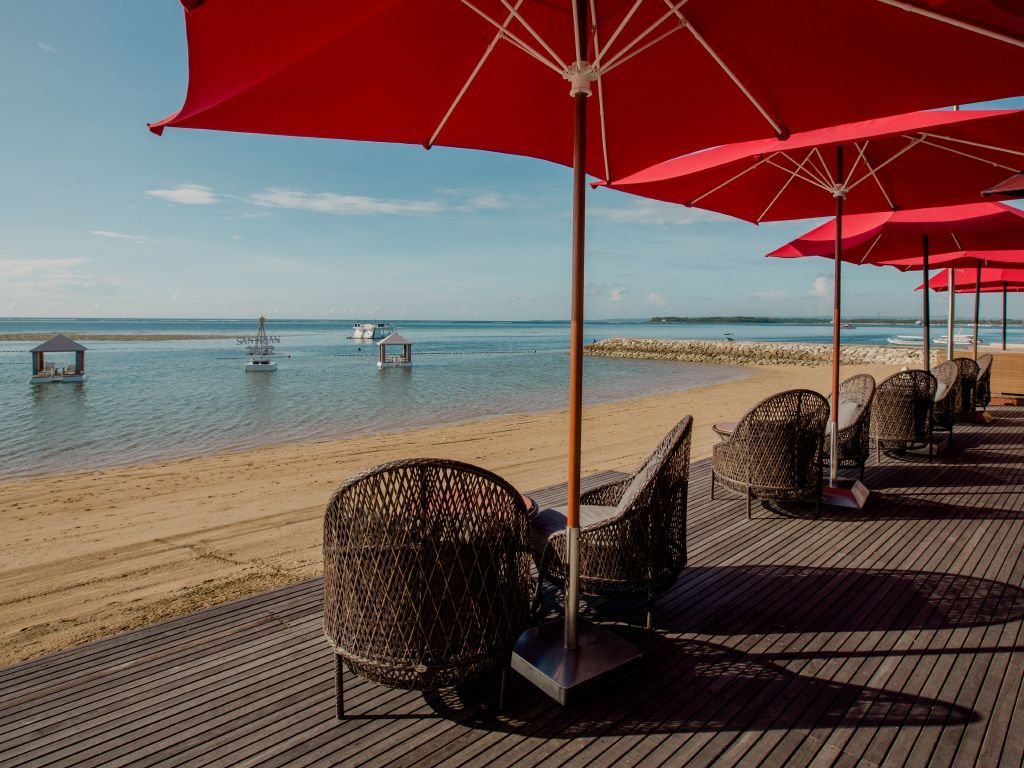 Puri Santrian is a modern Balinese resort strategically positioned on the beach at the tranquil southern end of Sanur. Close to popular points of interest, it is an upmarket area with strong cultural roots. Cocooned within a mature tropical garden, the hotel presents a choice of traditional Balinese décor accommodation options supported by essential lifestyle facilities.
Characterized by a design aesthetic that celebrates Bali's rich artistic heritage, Puri Santrian is respectful of the surrounding environment. This community-style concept evokes a sense of belonging and an attentive team is always on hand to provide exceptional service with a warm smile.  
As a family-owned and operated resort, Puri Santrian remains fully committed to preserving Balinese culture whilst remaining relevant in today's fast-changing times. This entails maintaining a fine balance between modernization, authenticity, and the spirit of local tradition.
The hotel's Beach Club Restaurant is a stylish dining venue placed between two swimming pools. Here you can enjoy the dining area at the resort's open-air restaurant environments with a breezy terrace overlooking the refreshing waters of the Indian Ocean.
Price: $112 per night.
THE 101 Bali Oasis Sanur
Discover the essence of Bali's tranquility at THE 1O1 Bali Oasis Sanur, where classic modern Balinese architecture meets smart, stylish design. Perfect for both business and leisure travelers, this hotel offers exceptional services and comfortable amenities. Located in central Sanur, it's just a 25-minute drive from the nearest airport, the Ngurah rai international airport, and only 15 minutes from Denpasar City.
If you take a short 5-minute walk from the hotel you'll find the famous live entertainment bar Casablanca, a perfect place for some pulse in the usual very calm surroundings.
Price: $72,50 per night
Prime Plaza Hotel Sanur – Bali
Prime Plaza Hotel Sanur – Bali offers very nice rooms in Balinese style, furnished with elegant furniture and marble floors. From the room, you have a view of the palm-lined 110-meter free-form pool with a pool bar. You can also spot the tropical garden from your window. Thanks to its ideal location, it is easy to get from the hotel to excellent shopping, various entertainment, and cultural events in Bali. The hotel offers scheduled free transportation. For those who want to walk, the hotel is only a 10-minute stroll from Sanur Beach.
The hotel has 8 rooms for spa treatments, a beauty- and hair salon as well as a fully equipped gym for those who want to exercise. At the pool, you will find Café Komodo which serves food and is open all day. At the Sanur Harum restaurant, you can enjoy delicious Chinese specialties and international dishes. The Tunjung Mekar lobby bar offers live entertainment every day and a wide selection of drinks. From the bar, you can also admire the view of the landscaped Balinese garden.
Price: $50 per night.
Hostels 
Kamboja Homestay
If you want to be close to the sea, this is the place for you. With only 800 meters from Sanur Beach, it will be difficult to find better accommodation in this price range. Kamboja homestay will provide you with large beds, a fridge, a private bathroom, and much-needed air conditioning. The place also has a pool for those who want to cool off. 
Price: $26,70 per night.
Surfer Garden Sanur 
Just 10 minutes away from the beautiful Sanur beach, you'll find this charming hostel. In addition to a large pool, you'll be surrounded by tropical trees and a cozy atmosphere created by the decorations and interior design. There's good Wi-Fi and a pool table, and many guests return just to see the friendly host again. Highly recommended for those who want to get away cheaply but still maintain a certain standard.
Price: $20 per night.
Bali Komang Guest House
Another cheap alternative if you're looking for a charming and tranquil guest house in Sanur is the Bali Komang Guest House.
Located among a beautiful garden, this guesthouse boasts a delightful restaurant and an outdoor pool giving you the tropical vibe you want. With its sun terrace and the option to rent bikes, Bali Komang Guest House offers the perfect respite for travelers seeking a traditional and relaxed atmosphere. You'll feel like you've discovered your private oasis as you stroll along the plant-lined paths and take a dip in the pool. It's also a very budget-friendly alternative for the one who doesn't like to splurge. 
Price: $21,90 per night.