Gdańsk: Unveiling the Charms of this Polish Port City
Gdańsk – where history and modernity embrace along the Baltic coast. As you wander its cobbled lanes, every corner unveils tales of maritime legends and architectural wonders. But beyond its storied past, today's Gdańsk brims with vibrant cafes and contemporary vibes. Ready for a journey? Let Gdańsk, with its rich tapestry and spirited energy, be your guide.
How to Get to, and Get Around in Gdańsk
Arriving by Air
Gdańsk Lech Wałęsa Airport is the city's primary international gateway. Located about 12 km west of the city center, it connects Gdańsk to major European hubs and select international destinations. Once you land, there's a direct train service that'll whisk you to the heart of Gdańsk in under 30 minutes.
Taking the Train
The Gdańsk Główny is the city's main railway station and a pivotal node in the Polish train network. Direct connections are available from major Polish cities such as Warsaw, Kraków, and Wrocław. The journey offers a scenic route, letting you capture the beauty of the Polish countryside.
Cruising on the Roads
If you're driving or renting a car, the A1 and S7 expressways are your main conduits to Gdańsk. They're well-maintained and signposted, ensuring a smooth journey. However, be mindful of the city's parking zones, as central areas can be particularly busy.
Navigating the City
Public transport in Gdańsk is a dream. The city boasts an efficient network of buses, trams, and even a few ferries. Buying a day or multi-day pass can be economical if you're planning to explore extensively. For shorter distances, consider renting a bike. The city's cycle-friendly infrastructure ensures a safe and delightful ride along its scenic paths.
The Waterway Charm
Gdańsk is a port city, and its waterways are a significant mode of transportation. You can hop on a water tram, a local favorite, to explore different parts of the city, or just enjoy a serene boat ride while taking in the maritime ambiance.
The Nightlife and Restaurants in Gdańsk
Gourmet Getaways
Gdańsk's culinary scene is a delightful fusion of Polish tradition and global tastes. Długa Street, the city's main thoroughfare, is sprinkled with restaurants that serve iconic dishes like pierogi and żurek, but don't be surprised if you stumble upon an authentic Italian pizzeria or a cozy sushi spot. For seafood lovers, a trip to Gdańsk is incomplete without tasting the fresh Baltic fish, particularly the herring prepared in myriad ways.
Crafted with Care
Over the past decade, craft breweries have sprouted around Gdańsk, each bringing a unique flavor to the table. If you're in the mood for a refreshing pint, head over to the Old Town. Here, local pubs serve up a range of craft beers, with amber ales echoing the city's age-old association with amber.
Mingle and Marvel
The nightlife in Gdańsk is both vibrant and diverse. From intimate jazz bars where you can unwind to the rhythms of saxophones, to pulsating dance clubs where DJs set the mood, there's a venue for every groove. The riverside, especially in summer, transforms into a lively hub with open-air bars and live music that keeps the spirit high till the wee hours.
Coffee, Culture, and More
For those seeking a calmer evening or a late-night caffeine fix, Gdańsk's coffeehouses are the places to be. Often set in historic buildings, these cafes not only offer aromatic brews but also a peek into the city's rich history. Some even double as art galleries, hosting local artists' works, ensuring your evening is both flavorful and culturally enriching.
Global Palates, Local Heart
While the city is proud of its Polish roots, its menu is worldly. From spicy Indian curries to delicate French pastries, Gdańsk's gastronomy is a testament to its openness and global connectivity. So, whether you're craving Mediterranean flavors or Asian spices, this Baltic gem has a plate ready for you.
Sopot: A 20-Minute Drive from Gdańsk to Seaside Bliss


Golden Sands of Sopot
Nestled between Gdańsk and Gdynia, Sopot's beach is a shimmering stretch of golden sand kissing the Baltic Sea. A favorite among locals and tourists alike, its soft sands and gentle waves offer the perfect backdrop for sunbathing, beach volleyball, or simply soaking in the serene views.
Strolling Down the Longest Pier
One of Sopot's crowning jewels is the Molo, the longest wooden pier in Europe, extending over 500 meters into the sea. A leisurely walk down this iconic landmark lets you breathe in the salty sea breeze, witness the yachts bobbing on the horizon, and, if you're lucky, catch a local event or concert.
Therapeutic Thermal Baths
Known for its therapeutic properties, Sopot's thermal baths offer a rejuvenating experience. Rich in minerals and nestled in modern spa facilities, these waters are a haven for relaxation. From saunas to massage therapies, you're in for a pampering treat.
Monte Cassino Street – The Beating Heart
This vibrant pedestrian street is where Sopot's spirit truly comes alive. Lined with cafes, boutiques, and restaurants, Monte Cassino Street is perfect for a leisurely afternoon of shopping or enjoying a meal, all while taking in the town's lively ambiance.
Forest Opera's Unique Acoustics
Nestled amidst the green embrace of Sopot's forests, the Forest Opera is an open-air amphitheater renowned for its incredible acoustics. If you're visiting during the summer months, don't miss the chance to catch a concert or festival, where the sounds blend harmoniously with nature.
Windsurfing and Water Adventures
Sopot's waters aren't just for leisurely swims. If you have a penchant for adventure, indulge in windsurfing or paddleboarding. With several schools and rental places dotted along the beach, beginners and experts can both ride the Baltic waves with glee.
Gdańsk City
Centre
Historic Heartbeat
At the core of Gdańsk lies its captivating city centre, where every cobblestone and building façade seems to echo tales from the past. The Main Town, or 'Główne Miasto', is the historical nexus that has witnessed pivotal moments, from the signing of treaties to merchant deals that shaped Europe.
Długa Street – The Grand Boulevard
Długa Street, or the Long Street, is the central artery of Gdańsk's heart. Flanked by colorful facades and intricate gables, this pedestrian-friendly boulevard is a timeline in itself. As you stroll, you'll encounter the Town Hall, with its impressive tower offering panoramic views of the city.
Golden Gate to Green Gate
Spanning from the Golden Gate to the Green Gate, this stretch encapsulates the grandeur of the city's architectural prowess. The Golden Gate, adorned with allegorical statues, and the Green Gate, overlooking the Motława River, frame a picturesque street brimming with history and vibrant energy.
Amber Alcoves
Gdańsk, often hailed as the 'World's Amber Capital', boasts numerous boutiques within the city centre. Here, artisans craft exquisite jewelry and artifacts from the 'Baltic Gold'. Delve into these stores to witness the craftsmanship and maybe pick up a luminous keepsake.
Fountain of Neptune – A Symbolic Sentinel
In the heart of the city centre stands the iconic Neptune Fountain, a symbol of Gdańsk's maritime heritage and influence. This bronze statue of the sea god has been a sentinel since the 17th century, and the square around it is a popular gathering spot for both locals and tourists.
Cafes, Culture, and More
Tucked between the historic landmarks, you'll find cozy cafes and eateries serving up local delicacies. But it's not just about food; art galleries and theaters abound, showcasing the city's thriving cultural scene. A visit to the Artus Court, for instance, unveils a rich display of the city's artistic heritage.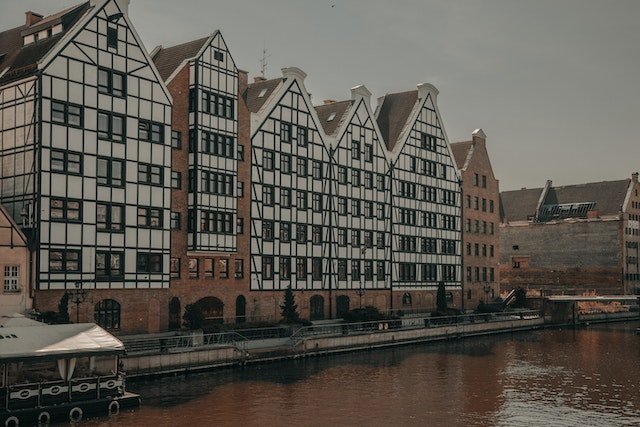 Activities to Do in Gdańsk
Maritime Museums and Shipyards
Venture into Gdańsk's maritime heritage at the European Solidarity Centre or the Polish Maritime Museum. Here, you'll discover tales of shipbuilding, trade, and the pivotal role the city played in Europe's maritime history. If you're keen, hop on a guided tour of the iconic Gdańsk Shipyard, where the winds of change once stirred.
Kayaking on the Motława River
Fancy a different perspective of the city? Rent a kayak and paddle down the Motława River. This waterway, crisscrossing the heart of Gdańsk, offers unique views of the city's architecture and bustling riverside life. Plus, it's an invigorating way to explore at your own pace.
Discovering the World of Amber
Gdańsk's association with amber is legendary. Why not join an amber workshop? Here, you'll learn about this Baltic Gold's fascinating history, its varied uses, and even try your hand at crafting a little keepsake.
Climbing the St. Mary's Church Tower
For those looking to mix a bit of exercise with sightseeing, climbing the tower of St. Mary's Church is a must. As the world's largest brick church, the panoramic view from its tower offers an unparalleled vista of the city and beyond.
Strolling in Oliwa Park
A haven for nature lovers, Oliwa Park provides a green escape right in the city. With its manicured gardens, serene ponds, and the enchanting Oliwa Cathedral, this park is perfect for a leisurely afternoon stroll or even a picnic.
Interactive Learning at the Hewelianum Centre
Got curious minds in tow? The Hewelianum Centre, set within a historic fort, offers interactive exhibits on science, astronomy, and more. It's a delightful spot where learning meets fun, making it ideal for both young travelers and the young-at-heart.
As the sun sets over the Motława River, casting a golden hue over Gdańsk's distinctive skyline, you'll undoubtedly feel the city's timeless allure. With its blend of rich history, maritime legacy, and contemporary energy, Gdańsk offers a travel experience that's both enlightening and invigorating. Whether you've spent days wandering its cobbled streets, sampling local delicacies, or simply soaking in the vibrant culture, this Baltic gem leaves an indelible mark on the heart. And as you gather memories, stories, and perhaps a piece of amber as a keepsake, remember that Gdańsk's magic isn't just in its past — it's in the moments you've lived, the adventures you've embarked upon, and the promise of discoveries yet to come. Safe travels, and may the spirit of Gdańsk always beckon you back for more.