Discover The 5 Most Beautiful Places in Skåne
Located in the far south of Sweden, you will find Skåne with its characteristic rapeseed fields and beautiful coastal strips. We grew up in this idyllic summer landscape, making us the perfect guides for all the hidden gems. These are the 5 most amazing places in Skåne, well worth a stop by according to us. 
1. Skanör Falsterbo
Skanör Falsterbo – A stunning medieval gem
Located on the western part of the Falsterbo Peninsula, Skanör and Falsterbo are two charming medieval towns fused together. The area has undergone millions of years of natural transformation, culminating in a breathtaking landscape where birds soar, seals play, and visitors relax on the mesmerizing white sands or stroll along the water.
For golf enthusiasts, this region is a mecca with three of Sweden's top courses located within just a few kilometers of each other. With its flat terrain, biking through the area is a great way to explore the true beauty of Skanör and Falsterbo. Have an ice cream and enjoy southern Sweden at its best. 
Pro tip: The bridge to Copenhagen is only 30 minutes away from Skanör Falsterbo, check out our article to see what Copenhagen has to offer!
2. Hallamölla Waterfall
Are you up for an adventure to witness the magnificence of Skåne's largest waterfall?
Located next to Hallamölla Mill, it has a total fall height of 23 meters, creating a breathtaking view. As you approach the falls, you'll feel the cool mist on your face, and you'll see the green cushions of moss that cling to the rocks. The area is also home to whitefish and starlings, who can be seen hunting for insects around the rushing water. The Verkeån River flows through a diverse landscape, and the entire reserve is a part of the Skåneleden trail, perfect for exploring.
3. Stenshuvud
A piece of magic in Österlen!
Coastal mountains, cozy forests, and beautiful beaches come together in a magnificent landscape in Skånska Österlen. The national park Stenshuvud has a southern exotic character and great biodiversity worth preserving and visiting. Don't miss the viewpoint at Northern Stenshuvud, which is 96 meters above sea level. The distance between the peaks is only one kilometer, and there are three different peaks to choose from. Alternatively, visit all three and enjoy the coast from different angles. The trail is lined with a forest of large oak trees.
4. Knäbäckshusen Beach
This paradise beach is probably as close as one can get to the Caribbean or Thailand without leaving Sweden. The sand is white, soft, and fine-grained. The vegetation frames the sandy beach in a way that is almost only seen in tropical locations. A delightful place for a lovely barefoot walk along the water or a few hours of relaxation on the beach. If you look left while walking down the beach, you can spot Stenshuvud's beautiful nature.
5. The Island Ven
From Helsingborg, you can easily take a ferry over to the island of Ven. The island is not very large, and the way to get around is by bicycle. It's been like that for ages: you go to Ven, rent a bike and cycle around to the places you want to visit. It's a typical summer activity and we can highly recommend it. 
Don't forget to stop by Kyrkbacken Marina, a charming place with iconic red houses, ice cream cafés, and a lovely beach. Ven lighthouse and the Tycho Brahe Museum are two other great stops on the island.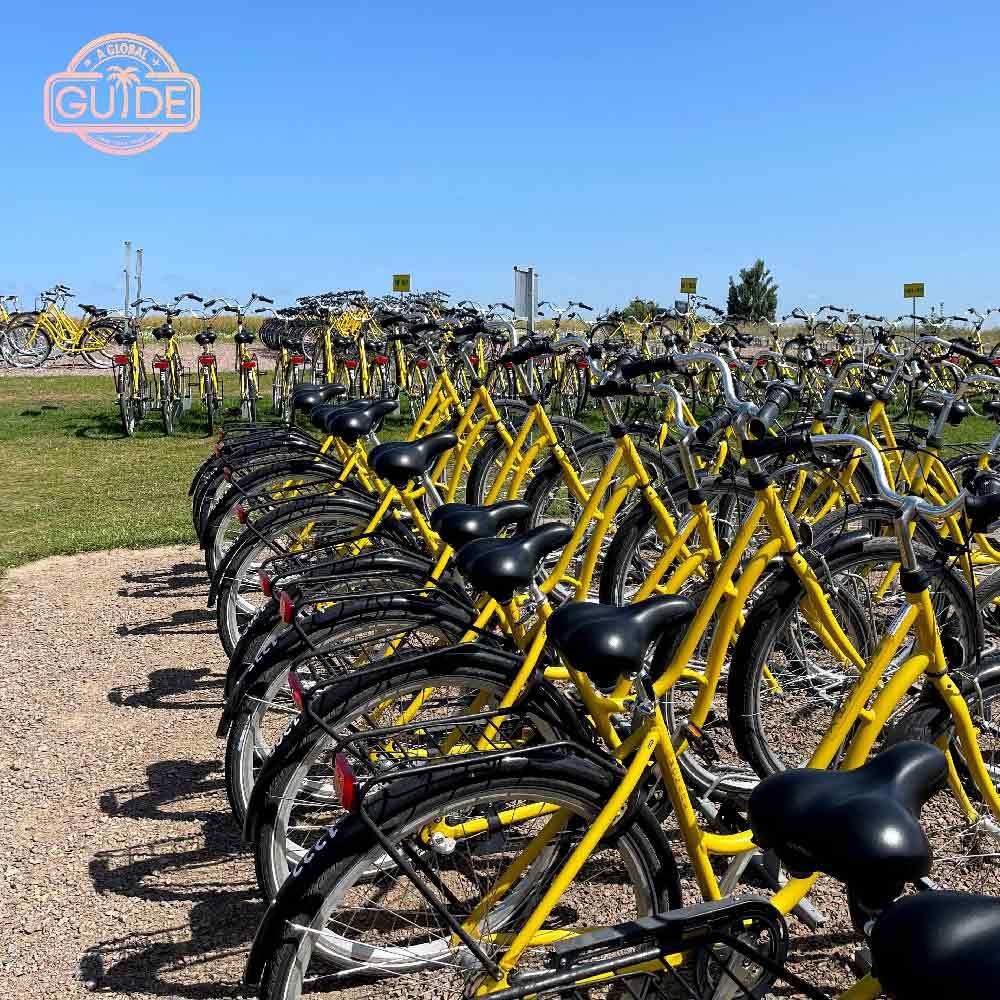 Pro tip: Make it a full-day trip and visit both Stenshuvud and Knäbäckshusen at the same time, since they are located so close to each other.
Are you planning a trip to Småland? Read this!