What are the Pros and Cons of Living in Sweden?
Sweden, the elongated country with well-known brands like IKEA, Volvo, and H&M, attracts people from all over the world, and there is a good reason why. Not only because it is a country known for its high standard of living, but also for its beautiful nature and enticing job market. Sweden consists mostly of stunning forests and nature, but due to a faster pace of life and greater job opportunities, many gravitate towards the larger cities. Living in metropolitan areas can often be expensive, so a tip is to consider accommodation in surrounding urban areas. Public transportation is generally very good in Sweden, and this is why thousands of people choose it as their alternative for commuting to work. In this article, we will go through the advantages and disadvantages of living in our home country, Sweden.
The Biggest Cities In Sweden
The three biggest cities in Sweden are Stockholm, Gothenburg, and Malmö. They are large in size, have a pleasant atmosphere, and each has its own hidden gems. If you are planning to move to Sweden for the purpose of finding a job, we recommend settling near one of them.
Stockholm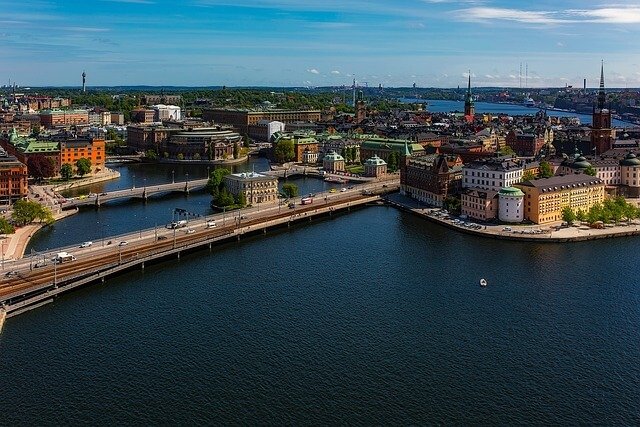 Sweden's largest city and also the capital of Sweden. Stockholm is an amazing city that offers a vibrant atmosphere and a lot of events in its city center. It also has a rich history and a fantastic archipelago.
Three of the most popular tourist destinations in Stockholm are:
Gamla stan
The Old Town, Stockholm's historic center with small picturesque streets dating back to the 14th century, is, according to us, the best place in Stockholm. Strolling around the old cobblestones and admiring the marvelous details of the preserved houses here is magical, with some streets as narrow as 90 centimeters. There are plenty of cozy cafes, and don't forget to try the heavenly ice cream served in homemade cones. In the Old Town, you can also visit the Royal Palace, one of the world's largest palaces with over 600 rooms, overlooking the city. During Christmas, the Old Town hosts wonderfully decorated Christmas markets, enhancing the festive spirit with its old architecture.
Skansen
Skansen was founded as early as 1891 and is one of Sweden's most popular places. This is largely due to the beloved program "Allsång på Skansen" (Sing-along at Skansen) which has been airing on Swedish television since 1979 but started as a show as early as 1935. In addition to concerts and music events, Skansen also features a zoo. This place is a popular family activity, offering something for all ages.
ABBA The Museum
Whether you're an ABBA fan or not, ABBA The Museum is a place worth experiencing. Dive into the disco era of the 70s and learn about ABBA's amazing history. The museum showcases everything from stage costumes to sound technology, and there's even an opportunity to step behind the studio controls and mix with ABBA's sound engineer set up. You can also perform as one of the band members or play an ABBA hit song behind the DJ deck.
Göteborg
Gothenburg is Sweden's second-largest city and one of our favorite places. There are countless things to do here, and the people who live there are often classified as the friendliest inhabitants in Sweden, with their, without being too stereotypical, slick attitude. The city is located along the coast, which allows for experiencing Gothenburg at sea as well. The city of Gothenburg is world-renowned for its seafood, and the classic "Skagen Toast" is a must-try for anyone who enjoys the delicacies of the sea.
3 of the most popular tourist destinations in Gothenburg are:
Göteborgs Skärgård
This is considered one of the most beautiful places in Sweden. The best way to see the archipelago is to take a ferry between the small islands. Each island is unique, and you'll find everything from bathing spots surrounded by stunning nature to picturesque streets in the small villages. The amazing thing about Sweden is the right to public access, which means you can camp anywhere in the country, so why not bring a tent and look for an island to stay overnight?
Liseberg
Liseberg is an amusement park that offers top-class attractions and a cozy environment, which has made it a classic activity for most families visiting Gothenburg with children. During most holidays throughout the year, the amusement park is decorated, and it also hosts concerts that attract big-name artists.
Universeum
Universeum has always been one of our go-to places in Gothenburg. Not only for their interesting and interactive exhibitions but also for their enormous greenhouses where they have created an 18,000-cubic-meter rainforest with free-flying birds and butterflies, accompanied by the singing of frogs in the background. The climate makes it feel like you're in a real rainforest, and just that alone is worth the entrance fee, according to us!
Malmö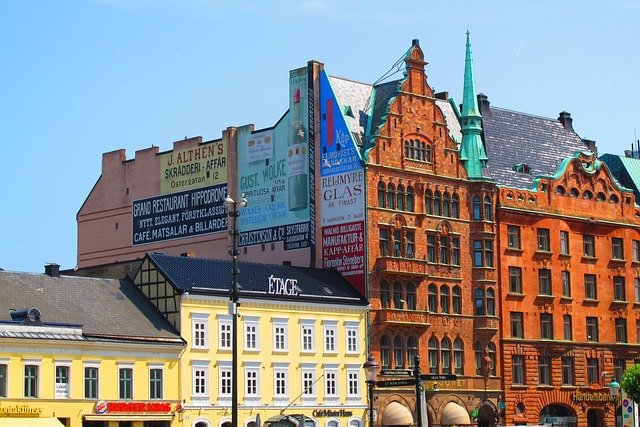 Malmö, Sweden's third largest city, is located in southern Sweden and is also where we have lived for most of our lives. Malmö is known as the city of parks due to its large parks situated around the city center. Malmö is classified as a world city by the Globalization and World Cities Research Network. The bridge to Denmark has made it possible for many people to work in Copenhagen, as the train journey takes only 20 minutes.
3 of the most popular tourist destinations in Malmö are:
Folkets Park
Located in the center of the city, this is one of Malmö's most popular meeting places. It features cozy bars, nightclubs, and theaters. During the summer, numerous events and music festivals are held in the area. The distinctive building, built in Moorish style, is now used as a nightclub, theater, and restaurant with an impressive 4 stages.
We had to include this museum on the list because of how bizarre it is. You don't go here for a culinary fine-dining experience, but to experience probably the most disgusting edible and drinkable things you've ever seen in your life. Baby mouse wine, Monkey brain, and Frog juice are just a few of the things that are on the menu. This place is not for the faint of heart!
Turning Torso
The Turning Torso tower was completed in 2005 and has since been a landmark of Malmö. At the time, Turning Torso was the world's first twisted residential building and, until 2022, the tallest building in Sweden until it was surpassed on the list by Karlatornet in Gothenburg.
Turning Torso is located in the popular Västra Hamnen, which is filled with activities. In addition to the impressive architecture, there are beaches, cafes, and a world-famous skateboard park. Västra Hamnen is perfect for strolling around in the summer, and just 5 minutes away lies Malmö's most popular beach, Ribersborgsstranden.
Pros and Cons
All the different countries in the world come with their advantages and disadvantages. As Swedish citizens, it is sometimes difficult to look at our country from an outsider's perspective, but we have done our best to list the things that are good and those that are less good about living in Sweden.
Pros
Parental Leave and allowance
Sweden is the country that has the most generous and gender-equal parental insurance in the Western world. This is probably a reason in itself why expectant parents choose to settle in Sweden, which is completely understandable.
Swedish citizens are entitled to parental leave and something called "parental benefit" according to the law. In practice, this means that mothers and fathers each have three months of paid parental leave, which cannot be transferred to the other parent, as well as an additional 300 days to share. Swedish parents generally receive 80% of their earned income during the last 240 days. The amount considered is paid out over 390 days, and for the remaining 90 days, the benefit is reduced by 180 SEK. If you have not worked or have documentation for the last 240 days, you still receive a minimum of 250 SEK/day for a total of 480 days. This is called "parental benefit".
During pregnancy, you have the right to parental leave for at least 7 weeks before childbirth and 7 weeks after. Parents with children under 8 years old also have the right to shorten their working hours by up to one-quarter of their normal hours or take continuous leave. Another option is to divide the parental leave, but no more than 3 periods during the calendar year.
For Sweden, children are important, and the state wants to ensure that children receive what they need from their parents. There is also a focus on gender-equal parental leave because they aim to increase economic equality and reduce the work-hour gap between women and men.
Vacation Time
According to the Vacation Act, all employees in Sweden are entitled to 25 days of vacation per year. Most people take their vacation days, while some receive it as part of their salary, which is called "vacation pay" and is common among part-time employees. Vacation days are always counted as full days, so it is not possible to take half-days as vacation days. If you change jobs and have not taken your vacation days, the employer must pay it out to you. If you start working at a workplace after August 31st, you can only take five unpaid vacation days during the current vacation year unless otherwise agreed with your employer. Providing paid vacation to workers is a way for the Swedish government to give their employees time to rest and have more time for their social life.
Free Education
In Sweden, it is free to have your children in school, and almost all children in Sweden who have turned 6 years old are required to attend school. Compulsory education means that children must go to school and receive the intended education, with exceptions for approved leave and certain illnesses. Education in Sweden is considered very good, and in addition to free college education, most students receive a monthly bus pass that covers the cost of transportation to school and $100 to cover expenses for school materials, etc.
Free Healthcare
Sweden is one of the world's best countries when it comes to healthcare. A significant reason why people pay high taxes in Sweden is to have the security of always receiving good healthcare. Sweden has a high-cost protection system that ensures individuals needing expensive medications pay a maximum amount per year, and the rest of the cost is covered by the state.
Even dental care is free until you turn 23 years old, and this includes expenses for braces, fillings, etc.
In Sweden, it is often easy to get a doctor's appointment when needed, but many also use apps to receive authorized healthcare over the phone.
Summer Months
Let's be honest, Sweden's winter season has its charm with snow-covered landscapes and crisp climates, but nothing beats the Swedish summer. This becomes evident when spring arrives and the streets fill up again with happy sun worshippers after being almost empty during winter. Sweden is a long country, which means that wherever you are, you can drive toward the coast to find a nice beach or cozy bathing spots. Sweden's many lakes are also filled with camping sites where, in many cases, there are piers to swim from.
High Standard of Living
Overall, Sweden has a high standard of living with good public transportation, a strong economy, and a reasonable work-life balance. Sweden is ranked as one of the best countries when it comes to the level of freedom, happiness, development, and the standard of living.
English Speakers
In Sweden, English is taught from an early age. Most schools start teaching English in the third grade, but there are also schools that introduce basic English as early as the first grade. After that, students have English lessons throughout their school years. In addition to the good education provided by Swedish schools, it is rare for programs to be dubbed on TV. Children's movies are still dubbed, but the English language is usually the most common language heard on people's televisions.
Although many Swedes may not feel comfortable speaking English, it is easy to find kind people to chat with. After a while, people's nervousness tends to fade away, and most are happy to use their second language.
Gender Equality
Even though no country in the world has reached full equality yet, Swedish society has come a long way when it comes to gender equality. In 1980, Sweden introduced its first gender equality law, granting women the same rights and conditions as men. Since then, Sweden has been working on gender equality issues and has one of the most gender-balanced parliaments in the world. Swedish schools improve every year to make children more aware and conscious. Schools also teach about sexual orientation from grades 7-9, where students are informed and can ask questions about gender equality, sexuality, love, and responsibilities.
Cons
High Taxes
This is not really a disadvantage considering the security it provides, but the tax rate in Sweden ranges from 30% to 50%, depending on whether you are an employee or self-employed. The municipality you live in also has a minor impact on the tax you pay, but most importantly, it depends on how much you earn per year.
Winter Months
There are positive aspects to everything, but for the most part, the long winters in Sweden are just too long. Bad weather, windy conditions, and below-freezing temperatures summarize Sweden's winter. Even though the average temperature in the cities usually never goes below -5 degrees, up in the north, it can sometimes reach as low as -40 degrees. You can still enjoy great activities despite the winter temperatures, but personally, we usually prefer a cup of hot chocolate in front of an open fire.
High Cost of Living
As we mentioned earlier, Sweden is a country with a high standard of living, but along with this comes the fact that Sweden is a country with a high cost of living. It is expensive to live in Sweden, but it also varies depending on where in the country you live. Stockholm is by far the most expensive city to live in, especially in the city center.
Reserved People
Many travelers would probably describe the Swedes as outgoing individuals, but once in Sweden, the atmosphere often feels different. According to us, there is a significant difference in people's moods depending on the season. As we mentioned, the winter half of the year is one of Sweden's drawbacks, and it is understandable that people often look down at the pavement, shivering when they meet someone on the street. We also find that the smaller the town you are in, the more inclined people are to greet each other on the street.
How to Get a Residence Permit
If You Are in Sweden
If you have been granted a residence permit for Sweden, you will need to go directly to a migration agency to obtain your residence permit card. To obtain this, you will need to have your photograph taken and your fingerprints taken. The photograph and fingerprints are not stored anywhere else other than on your card and therefore need to be renewed each time you renew your residence permit card. If you have your photograph taken and fingerprints captured at a migration agency in Sweden, it takes approximately 1-2 weeks to receive your card, which will be sent to your home address.
If You Are Outside of Sweden
If you are outside of Sweden, you will need to go to a Swedish embassy to have your photograph taken and fingerprints captured there. It is important to check if the embassy you plan to visit offers fingerprint scanning and photography services, as not all of them have that capability. If you obtain the card through an embassy or consulate-general, it usually takes up to four weeks, and sometimes you may need to collect your card in person.